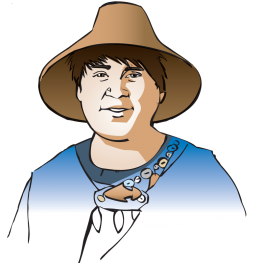 Haisla from Kitamaat Village. HCW Consultant, Arts & Media Projects
In 2006-2007, while still in high school, Duane Grant along with 11 other youth from the Haisla Nation, participated in the first Star in Your Own Stories workshop we conducted with Chee Mamuk. In just a few days, they produced and starred in a short film called Stand True which talks about how rumors can spread in communities just like HIV/AIDS. As a result, he traveled with the film all over BC and Toronto speaking at conferences and appearing on MTV.
A bit of tech-wizard, Duane has theatre experience as well as managing Kitamaat Village Radio (KVR 96.1FM) from 2008-2010. Residing in the Lower Mainland since 2013, Duane started dancing with the Git Hayetsk Dancers and started apprenticing with Mike & Mique'l Dangeli. He now is learning to carve, paint, create regalia, dance, and to do First Nation art. Duane hopes to one day bring his knowledge back home and start teaching the next generation what he has learned. He is co-directing a HCW documentary in development about the Star in Your Own Stories project legacy.