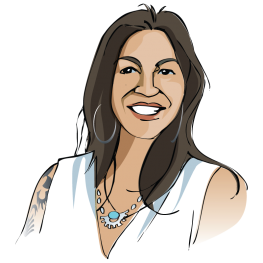 Creative Director, Cultural Safety Lead
Jada-Gabrielle Pape, BA, MEd, is Coast Salish from the Saanich and Snuneymuxw Nations. She is a cultural competency, cultural safety and First Nations curriculum consultant, designer and instructor as well as a certified counselor. She works within Hello Cool World to shape, write, and creative direct culturally safe content around our core areas of expertise, health and well being promotion, harm reduction and social justice. As co-creator of the Drawing Wisdom project, her goals are to bring First Nations perspectives and values in teaching history, harm reduction and life skills within indigenous communities, and to work with non-indigenous allies to build reciprocity. 
 
Jada-Gabrielle Pape has been working with urban and rural First Nations people and communities since 1992. A specialist in cultural safety training and workshops Jada has worked with doctors, nurses, doulas, prison staff, prison inmates, women in the sex trade, teachers, Chiefs and Council, government agencies, non-profits, elementary and high school students. Her professional experience includes UBC's Museum of Anthropology, BC Centre for Disease Control, the Vancouver School Board and BC Women's and Children's Hospital, BC Hearth and Stroke Foundation, the BC/Yukon Women's Cancer Alliance. Her work has brought her to Indigenous communities across the province, and more recently to the Mayor's Task force on the Opioid crisis.
 
With a BA in Creative Writing and an MEd in Curriculum and Instruction and Counseling Psychology from UBC, Jada has recently completed her Canada-wide professional counseling certifications to get an Accredited Diploma of Professional Counseling. Much of the knowledge that Jada draws upon is respectfully carried forward from the generous traditional teachings of Elders, Community members, and valued mentors. She has a counselling practice and much of her facilitation work is done under her own consultancy - Courage Consulting. Alongside her consulting practice she has worked as a certified program Instructor for the Indigenous Certification Board of Canada - accredited CHAD (Chemical Addictions Program) at NVIT (Nicola Valley Institute of Technology).
 
Jada worked with Hello Cool World for many of the projects they did with Chee Mamuk, including travelling to communities and co-facilitating the Star in Your Own Stories youth video workshops around HIV/STIs. She is director on the upcoming short film "Down Town Stories" (in production) "Healing Inner Voices: HIV" (not yet released) and was co-director of "Na'tsa'mat A Healing Journey" for VACPC, and "Circle of Life, Circle of Love" for the Canim Lake band. Through Hello Cool World she has also worked recently as a creative director for ClutureBrew.art, on curriculum design for the Moose Hide Campaign and a new initiative through UBC School of Nursing designed to help youth experiencing mental health challenges learn to be advocates for change.
 
A single mother to a fantastic fifteen-year-old daughter, a proud community member, an advocate for youth and Indigenous people, Jada is also an emerging mixed media artist who leads restorative art retreats.