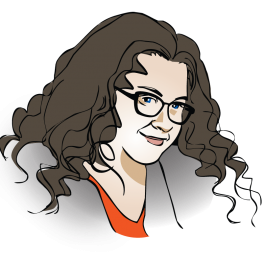 Impact Producer, Hello Cool World Founder
Founder of Hello Cool World in 2001, Katherine Dodds (AKA "Kat") got her start in advertising at Adbusters. An 'impact producer' before the term was in vogue, she is known for highly effective and heartfelt transmedia campaigns in film, video, print and digital.  Kat was the mastermind behind the outreach and branding of The Corporation, Canada's top-grossing documentary of all time and winner of 26 international awards, leading Hello Cool World to explore their style of 'social branding" while also building custom software in a pre-Facebook world. She produced the digital media component, and directed the audience engagement campaign in four countries for the 2004 film. Now for the upcoming sequel  "The New Corporation," she is directing "Halo Tales" a progressive web app that will share impact tales and form the digital media component for the new film's roll out later this year.
 
In tandem with this, and her work on behalf of other social impact films like "Indian Horse" and "The Grizzlies," she is partnering to develop the Cool World app, a suite of software services that will combine Digital Rights Management (DRM) for activist films and powerful social listening and list-building tools (Nexology & SqueezeCMM) integrated with a progressive issue-based solution to CRM - i.e. creating mail lists that can be accessed based on issues, across projects, while being able to drive revenue to filmmakers and impact campaigns. It's in beta stage with film launches we are working on, including the upcoming sequel to The Corporation. One of the reasons we are doing this is that we want a truly progressive use of data, and to be able to mobilize across silos.
Hello Cool World's entire mission has been about producing impact whether a project is very localized or broad in scope. Using the power of branding for storytelling campaigns that take on social issues, and using social media to engage publics, we are at the forefront of new ways to create and evaluate community-based creative and research projects. Demonstrating success through stories will feed forward to new work —  a process we like to describe as 'going spiral.'
When not working on community media projects, PSAs, documentary films and health promotion campaigns, Kat is a frequent public speaker and workshop leader. She is also the creator of the #4Eva campaign for organ donation and cystic fibrosis awareness centred around the film 65_RedRoses, which launched in the US on Oprah Winfrey's documentary club on OWN. Closer to home, she partnered with BC Transplant to get the film free to BC high schools.  In 2007 she received a "Woman of Vision" award from Women in Film for her work in interactive media.  In 2013 she co-authored the book Picturing Transformation, Nexw'áyansut which features 15 years of Nancy's Bleck's photography around the Uts'am Witness Project (Figure 1 Publishing). In 2016 she  was profiled as an impact producer in Tracey Friesen's book "Story, Money, Impact." (Routledge). In May of this year she will be receiving a 2019 BC Achievement Community Award.
 
Kat has an MA from the University of Leeds, UK, and a BFA from the University of Victoria.